Originally, the nose was certainly the most animal organ that humans possessed, their most primitive and even bestial sense.
Humans had one of the best senses of smell in the animal kingdom, part of their survival instinct.

In tribute to our wild nature, Les Eaux de Peau fragrances tame these animal notes which stick so well to human skin, in acknowledgement of the seduction of animal beauty.
We run forever, we will galop until our deaths. In a burning breath, in a howling wind, we fly above the landscape with the pounding of my hooves, loving the freedom. Driven by the desire of our fusion, to become one in this race, skin against skin, rider and stallion hold each other tight as they forge ahead. They fight, struggle and brave the storm in their desire to win. The man straddles the animal. Their hot, exhilarated scent mingles with those of cut hay and churned up soil. In this contact, their powerful muscles are tense, their instincts combined. I am a wild beauty, the fragrant trace of a powerful physical link and a thrilling energy. I am the symbol of nobility, power, salvation. I am able to spread my wings in the sky, to pull the sun across the heavens, to brave dangerous voyages. I am a myth and a mystery. My animal perfume is a force of bestial sensuality, almost reckless. If you use it, you will be PEAU DE BÊTE.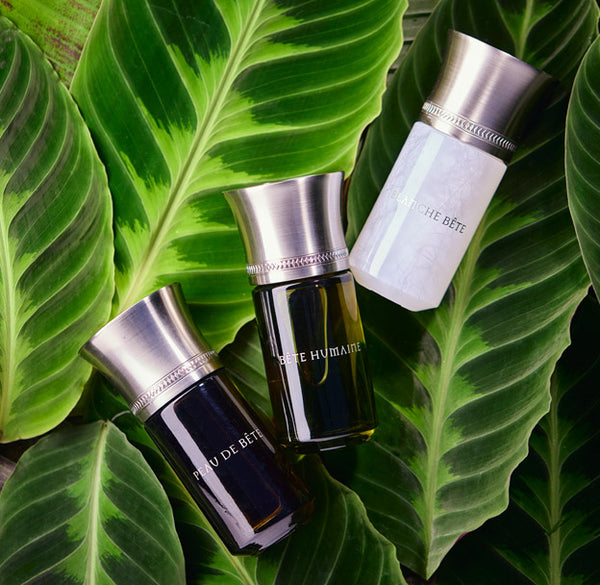 Peau de Bête
Animalistic & wild
Peau de Bête embodies the essence of animal sensuality, exuding strength and vitality through its rhythmic gallop and the fervor of its pulsating blood. Its captivating animalistic potency embraces and comforts, forging a unique path of innovation where the sensuality of nature converges with the allure of an animal-inspired perfume. Reviving the nobility of this primal scent with precious essences, including the evocative sweat of a horse after its gallop, it creates a warm, enveloping, and sensual fragrance that seamlessly merges the realms of the animal and the human.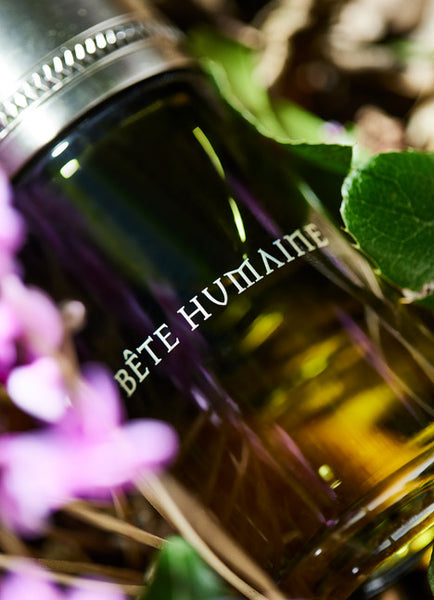 Since the 17th century, philosophers have dreamt of defining humans' relationship to animals". Whether I am called "Homo sapiens", "Modern man", "Mankind", "Human" or "Human being", I am an animal. A wild man, a mythological figure in literature and art. I am the link between civilised humanity and the Elven spirits of an untamed nature. I live free in faraway lands, mysterious forests and boundless plains. My skin and my fur are both my weakness and my protection. I live naked, wearing only my scent which is that of nature. Ice-cold rivers, resinous forests, blazing rocks heated by the sun, carpets of leaves where I sleep. I am hunted and a hunter, like a beast. Driven by fear, armed with strength, cloaked in my scent. I am a man with a lion's heart. BÊTE HUMAINE is my species.
Bête Humaine
The lively trace of a man of the forest
Bête Humaine is the fragrance that embodies the untamed spirit of humanity. Like a wild man, we are a link between civilisation and nature. Our scent is that of the earth, of the forests and rivers that we roam. We are hunted and a hunter, driven by fear and armed with strength. Our skin and fur are our protection, and our scent is our cloak. Bête Humaine is the scent of the lion-hearted, the ones who live free in faraway lands and boundless plains. Let the fragrance of Bête Humaine transport you to the untamed wilderness, where your animal instincts reign supreme.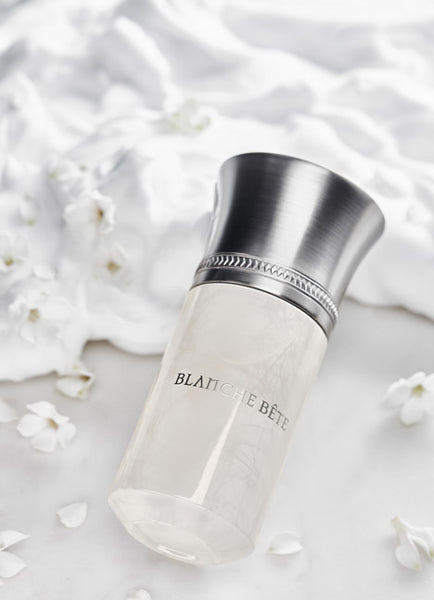 Often represented in medieval tapestries alongside a young woman in a flowery and fragrant garden, I am an imaginary animal, wild and solitary. My immaculate body is that of a fabulous white horse. Wearing a single, twisted poison neutralizing horn on my forehead. My ivory is sought after because it purifies the waters of its magical power. I embody love and mystery. I only appear in the light charged with the dynamic energy of my supernatural strength that only creative minds can perceive. Can you dream hard enough to see me? Because I am the animal that never was. BLANCHE BÊTE is my legend.
Blanche Bête
White flowers & Milky powdered
Blanche Bête is the fragrance that will transport you to an enchanted garden, where a mythical creature roams. With notes of white flowers and opaline light, this fragrance embodies the purity and magic of the legendary white horse with a single horn. Blanche Bête represents the power of imagination and creativity, a symbol of love and mystery. Let yourself be enchanted by the elusive presence of Blanche Bête, and let its magic take you to a world beyond the ordinary.
Newsletter
Subscribe to receive communications about our products and services